Teton Machine Company, like most American manufacturers, faces threats on many fronts. Attracting and maintaining a talented and productive workforce, pricing pressure from overseas competitors and increasing expectations from our customers are just a few examples. Over the past decade we've addressed those threats by trading out aging machine tools for new machines equipped with the latest technology, offering our employee owners training opportunities to enhance their skills and registering our quality system to the latest revisions of   ISO9001 and AS9100D. Staying current with evolving technology and best industry practices not only makes Teton more competitive – it makes us better.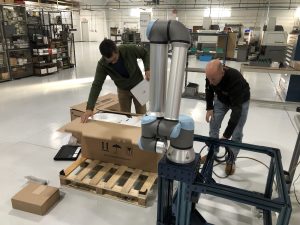 Recently Teton Machine Company took a significant first step toward increasing our capacity and productivity by adding a Universal Robot to our workforce. We named it Norm in honor of Teton's original founder in Jackson, Wyoming and have been working to identify how its capabilities best complement our operation.
Robotic production is not new
Robots with similar attributes are not new. They've been used in automobile assembly lines for many years. Over time they've evolved from large and dangerous machines requiring safety fencing into cobots like Norm capable of working alongside people without fear of injury. They've also become easier and more intuitive to program. Unlike an automotive assembly line Teton manufactures hundreds different part configurations each requiring a unique process. Remaining competitive and profitable requires the ability to quickly and precisely change from one process to the next without interrupting work flow. A large robot capable of only one set of motions and fenced off from the rest of us wouldn't be much help. Norm is portable and can be taught new tasks fairly easily.
With Norm handling our most boring and repetitive tasks while working nights, weekends and holidays our machinists are free to apply their knowledge and skills to more challenging problems. Robotic automation helps elevate our quality of work and our quality of life. Thanks Norm.
Located in Payette, Idaho, Teton Machine provides a wide range of precision machining services for leading companies across the United States. As an employee-owned company, all of us have a vested interest in providing the highest quality service in our industry. Companies who work with us recognize and appreciate this commitment, which has played a major role in our ongoing growth. 
Whether you need CNC milling, CNC turning, Swiss machining, product consulting, or are unsure what machining process best suits you, we'd love to hear from you. We know and understand manufacturing, and will be happy to share our industry knowledge with you.
Please like or Share our article